A town where you can
encounter landscapes
from the Japan of yesteryear
These are the must see sightseeing spots in Nishikawa recommended for visitors from abroad!
Why not make wonderful memories in Nishikawa where landscapes from Japan's olden days still remain?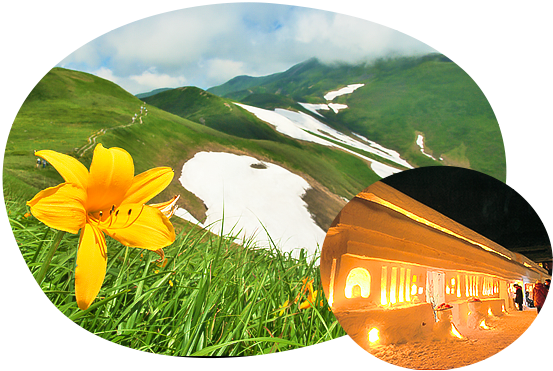 Mt. Gassan

Mt. Gassan, standing 1,984m high, is located almost in the middle of Yamagata prefecture and is an unusual shield volcano. Together with the Asahi Mountain Range and Iide Mountains, Mt. Gassan is designated a part of Bandai Asahi National Park.
One of the 100 best mountains in Japan, it is the highest of the three sacred mountains that make up Dewa Sanzan. It is known for mountain worship, and Tsukuyomi-no-mikoto is enshrined in Gassan Shrine on the mountaintop. The famous poet, Matsuo Basho who wrote The Narrow Road to the Deep North climbed Mt. Gassan and penned the poem, "Kumo no mine, Ikutsu kuzurete, Tsuki no yama" (The towering cloud heads, Break into pieces, On mountains in the moonlight.).
Today, the mountain has a ski lift installed due to the abundance of snow that remains and is the only place in Japan where summer skiing is available (early April to around late July).
In addition, trekking can be enjoyed throughout the four seasons. Enjoy the over 350 different alpine plants that bloom as the snow melts and colorful autumn leaves in fall.


Asahi Mountain

The Asahi Mountain Range runs along the border between Yamagata and Niigata prefectures and is designated part of Bandai Asahi National Park. From its highest peak, O-Asahidake (1,870m above sea level), fantastic views can be enjoyed of Sado Island and Mt. Aizu Bandai in the distance. Also exceptional are alpine plants, such as the day lily and Lilium rubellum Baker, and budding beech trees.

Large Water Fountain ,Gassan Lake

The townspeople of Nishikawa are proud to have the tallest fountain in Japan that is a symbol of the town's water source.
Japan's highest water fountain throwing water up to 112 meters into the air from late April to November.
※The fountain sprays water for about 10 minutes each time.


Location/158-130 Sunagozeki-aza, Nishikawa-machi, Nishimurayama-gun, Yamagata Prefecture
Tel. No./0237-74-4411・0237-75-2354

Nature & Crafts Tradition Hall

This is an atelier for "making things" of many different types using materials in the region. It provides opportunities for various learning experiences, including observation and private and group participation.

Location/4110 Ooaz-oisawa, Nishikawa-machi, Nishimurayama-gun, Yamagata Prefecture
Tel. No./0237-76-2112

website※Japanese only

Yamagata Prefectural Natural Museum Park

This is a facility where you can learn through programs such as "The Mechanism of Nature" and "Interaction of Nature and Humans," while interacting with nature.
Inside the park there are a Nature Center, various spaces for outdoor observation along the outdoor promenade, hands-on experience zones, observation decks, and outdoor observation huts. Try walking among the beech trees of Mt. Gassan which are remarkably adapted to the heavy snow environment.

Location/159 Aza-ubagatake, Ooaza-shizu, Nishikawa-machi, Nishimurayama-gun, Yamagata Prefecture
Tel. No./0237-75-2010

website※Japanese only

Iwanesawa Sanzan Shrine

Wider than the 57-meter Great Buddha Hall in Nara, its main entrance boasts an extraordinary scale, measuring 66.9 meters across and the shrine is a Nationally-Designated Important Cultural Property.


Location/Iwanesawa, Nishikawa-machi, Nishimurayama-gun, Yamagata Prefecture
Tel. No./0237-74-4732

Hondoji Kuchinomiya Yudonosan Shrine

The shrine was founded in 809 deep inside Mt. Yudono when Kukai, the great teacher of Buddhism, visited the area.


Location/381 Hondozi, Nishikawa-machi, Nishimurayama-gun, Yamagata Prefecture
Tel. No./0237-74-3565

Dainichi Temple Ruins Oisawa Yudonosan Shrine

In ancient times, it was counted as one of the "Seven Great Sacred Grounds of Japan."
Pilgrims traveling to the sacred mountains of Dewa Sanzan from this point were once so great in number that it was written a line of travelers wearing conical hats wove through Oisawa.


Location/Nakamura, Oisawa, Nishikawa-machi, Nishimurayama-gun, Yamagata Prefecture
Tel. No./0237-74-2111

Nishikawa Roadside Station (Gassan Meisuikan)

This roadside station has a range of souvenirs from Nishikawa. The restaurant next door serves a very popular dish of beef simmered in locally brewed beer until it practically melts in the mouth.

Location/2304 Mizusawa, Nishikawa-machi, Nishimurayama-gun, Yamagata Prefecture
Tel. No./0237-74-2100

website※Japanese only

Shizu Hot Spring (Gassan Shizu Hot Spring)

Surrounded by the virgin beech tree forests at the foot of Mt. Gassan, you can savor the changing scenery of Mt. Gassan, Mt. Yudono, and other picturesque locations. Enjoy hot spring water that promotes beautiful skin and also soothes eczema.

Location/Shizu, Nishikawa-machi, Nishimurayama-gun, Yamagata Prefecture
Tel. No./0237-74-4119

Late February・Early March

"Illuminated Snow Inns," Gassan Shizu Hot Spring

Using snow piled over 6 meters high, this is a recreation of the townscape of an inn town on the Rokujuri Pass Highway during its heyday. At night, the soft candlelight creates a fairytale-like world.

Early April

Mt. Gassan Snow Corridor Walking

"Walls of snow" line both sides of the prefectural road Gassan Shizu Line, formed by the clearing of snow in time for opening of the Mt. Gassan Ski Slopes. Portions of the walls reach over 10 meters. Participants all express the same expression of astonishment at the overwhelming impact of the sight.

Late July

Mt. Gassan Summer Festa

There are many programs which the family can enjoy, including the special release of water from the nearby dam for the Mt. Gassan Summer Festa Dam and a chance to experience a dragon boat race.