What kind of town is
Nishikawa

?

Situated just about in the middle of Yamagata prefecture, Nishikawa is 32km from the prefectural capital of Yamagata City at the foot of Mt. Gassan, a famous mountain in Tohoku (Northeastern Japan).
Most of the town is comprised of forest. Nishikawa is surrounded by a wealth of nature, including the Sagae River that runs through the town and is known as the clearest stream in Japan. The abundance of nature means you can experience the changing four seasons in Tohoku unique to "satoyama" (synergetic harmony between forest nature and humans).
In addition, since Nishikawa is located in one of the snowiest regions in the prefecture, snow piles up over 1m high even in the center of town.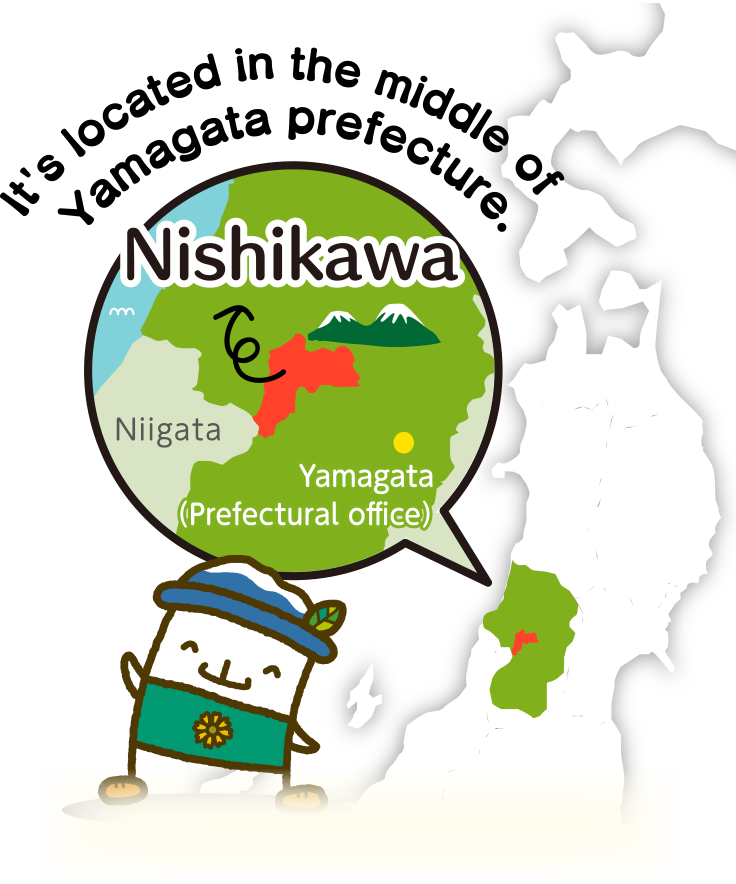 Nishikawa is a treasure chest of nature that has completely different landscapes in each of the four seasons.
On Mt. Gassan, which is known as a mecca for summer skiing, you can enjoy skiing from April to July, as well as trekking amid lingering snow and new greenery. Plus, events such as the Gassan wild vegetable market are held.

Cherry blossoms blooming in the midst of snow that still remains on the mountain creates a landscape not often seen elsewhere, but in Nishikawa it is common sight in spring.

Enjoy trekking while also experiencing lingering snow, cherry blossoms, and new greenery! You'll probably spot delicious-looking wild vegetables where the snow has melted.

April is when all of Japan is keen to know if the cherry blossoms are in bloom... The Gassan ski slopes open and skiers and snowboarders from Japan and abroad come for the snow on Mt. Gassan.

In the Shizu/Oisawa area, you can enjoy camping, canoeing, and rafting. You'll be dazzled by the many alpine plants blooming on Mt. Gassan.

Leave behind the day-to-day routine and relax. Visit Nishikawa for a soothing getaway to forget the workaday stress and recharge your energy reserves.

Water bubbles from a primeval forest of beech trees and nurtures great-tasting alcoholic drinks (local saké, beer, and wine), wild vegetables, and mushrooms.

Enjoy taking a walk while viewing landscapes of lingering snow and alpine plants. A guide who knows all about Mt. Gassan will take you to the mountaintop (reservation required; fee charged).

Savor the colors of autumn on Mt. Gassan where the entire mountain turns into a carpet of autumn-tinted leaves, and enjoy the tastes of autumn at the Oisawa Mushroom Festival and the Nishikawa Beef "Moo Moo" Festival.

Autumn arrives sooner than expected. Invite family and friends to enjoy autumn colors in Nishikawa!

Relax body and mind with beautiful scenery and hot springs! This is the season when the Mushroom Festival and Moo Moo Festival are held!

Be sure to have your camera ready to capture the colorful landscapes. Enter your beautiful snapshots in a photo contest!

At Shizu Hot Spring, you can enjoy "Yuki Hatago no Akari" (illuminated snow lodges), which recreates the streetscape visited in the old days by pilgrims traveling to the sacred mountains, and have fun in the snow and winterscape by going snow trekking on Mt. Gassan.

"Yuki Hatago no Akari" is held every year from late February to early March. Don't miss out on the artistic snow lodges made out of natural snow and comforting lantern lighting.

Road signs that normally stand above eye level are at your feet when snowshoe trekking?! You'll probably want to share this on SNS.

Have fun with snow, food culture, and lifestyle. Come to Nishikawa for enjoyable experiences in the snow!

Mt. Gassan

Numerous alpine flowers bloom from spring to summer, while in fall the beautiful autumn colors blanket Mt. Gassan. Many people have journeyed to this mountain that has long been a place of spiritual worship. As one of Japan's top 100 mountains, Mt. Gassan is a popular destination and can now be easily climbed using a ski lift.

View in more detail

Information on events

Information on events

Frolic in the snow, long for the spring, play in the summer… There is a wide variety of events taking place in Nishikawa.

View in more detail

Gourmet Dining, Souvenirs

Gourmet Dining, Souvenirs

You took the time and effort to come, you enjoyed conversations with other people,
and from the bottom of your heart you are thankful for everything.
Take home these memories along with your souvenirs.

View in more detail

Hot Spring

Falling and piling up over long periods of time, the snows of Mt. Gassan have formed natural hot springs which have healing powers for us. Melt away the tension and grime from your mind and body to become a new you.

Outdoors

The natural environment created by one of Japan's few regions of heavy snowfall displays richly diverse appearances.
Dive deep into the bosom of it and play to your heart's content.

The History and Culture

Being one of the few locations with heavy snowfalls in the country, people could not easily access it and the area became a large sacred site for Dewa-Sanzan ancient mountain worship as "the place where gods exist."
People's deep sentiments toward mountains (= gods) are still strongly rooted in the region even today.

Promoting health

The pure air seems to cleanse with every breath. Nature's gifts of water and food will spread throughout your body and satisfy your spirit.
Recharge your physical and spiritual reserves to gain the strength to put your best foot forward tomorrow.

Hands-on Experience Programs

Traditional handicrafts created from "materials that just happen to be around." Aside from minerals and plants, the "spirit of the craftsman" cultivated though interaction with nature is also a material for making the crafts.

Wild vegetables/mushrooms

Nishikawa is one of Tohoku's best treasure troves of wild vegetables and mushrooms. There are 46 kinds that grow from spring to early summer, and 32 kinds of mushrooms/nuts in fall.
Wild vegetables nurtured below the deep snow are fresh and full of moisture.
They all sprout at once as the snow melts to announce the arrival of spring, and are flavorful and nourishing gifts from the mountain.