Nishikawa The town
with
Mt. Gassan
Standing at 1,984m above sea level, Mt. Gassan is the highest of the three sacred mountains called Dewa Sanzan. There are 5 municipalities in the surrounding vicinity. Tourists familiar with summer skiing and trekking particularly visit Mt. Gassan from Nishikawa. The mountain is rich with alpine plants that are said to number more than 350 in variety. Mt. Gassan is continuously adorned with a wide variety of flowers from late June to mid September.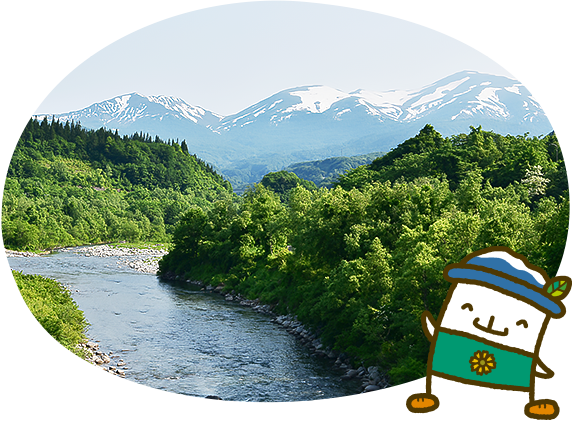 See stunning views visible from Mt. Gassan and changing mountain colors through the fours seasons!!
Fantastic Four Seasons: Springtime

Fantastic Four Seasons: Summertime

Fantastic Four Seasons: Autumntime

Fantastic Four Seasons: Wintertime

April to July

Mt. Gassan Summer Skiing

While other ski slopes are closed, skiers can still ski down the Mt. Gassan Ski Slopes which are open from April until July.
In the warm climate, enjoy invigorating skiing and snowboarding amid the contrast of the "blues" skies, "white" snow, and new "greenery" of spring.

July to August

Mt. Gassan Flower Trekking

While Mt. Gassan stands less than 2,000 meters, there are many alpine plants thriving which are usually found only on mountains higher than 3,000 meters because it receives a full measure of seasonal winds from the Sea of Japan. The site of them blooming beside the snow is referred to as "snow field vegetation" and is a phenomena of high scientific importance. Looking at the delicate plants will make your face broaden with a smile before you realize it.

September to October

Mt. Gassan Autumn Leaves Trekking

The autumn leaves are at the peak of their beauty in the middle of September. They start turning color around the summit, then their new colors appear in the vicinity of the ski lift in the middle of October. The wide variety of hues and tints unique to Mt. Gassan, one of the few areas in Japan with heavy snowfall, create a world like a picture scroll of nature.