Enjoy the Blessings the Snows of Mt. Gassan Offer Together
with Memories of Your Trip…
You took the time and effort to come, you enjoyed conversations with other people,
and from the bottom of your heart you are thankful for everything.
Take home these memories along with your souvenirs.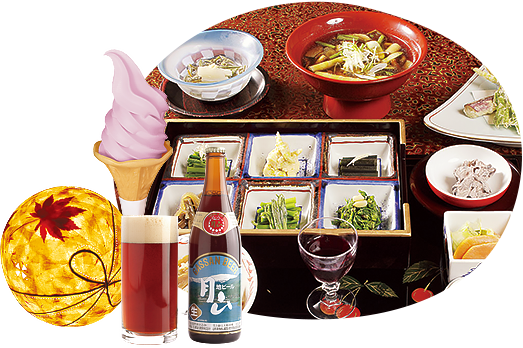 Gassan Edible Wild Plant Soba

Nishikawa-machi is famous for this type of food eaten by dipping soba, which has been chilled in cold water to bring out its al dente texture, in piping-hot sauce containing copious amounts of edible wild plants and mushrooms. The soba can be put in the pot and allowed to boil a little bit or it can be served in a small bowl with dipping sauce as "tsukesoba." At the end of the meal, putting the remaining soba in a hat in which soba powder has been dissolved in water and eating it is the "Nishikawa style" of enjoying soba.

Gassandake (bamboo shoots)

Gassandake can be picked at the skirts of Mt. Gassan from late May to June. It is called the king of wild vegetables in Nishikawa and is a specialty product representative of the area. Japanese enjoy it in homes and Japanese-style inns as seasonal food, and many visit farmer's markets to buy it. In season, Gassandake grows to be about as thick as a thumb and is delicious when eaten in miso soup or roasted. The bamboo shoots are tender and filled with the goodness of the mountains.

Dishes with wild vegetables and mushrooms

Nishikawa is blessed with pure water and abundant nature from mountains such as Mt. Gassan and the Asahi Mountain Range. A variety of wild vegetables can be picked. Typically, wild vegetables such as "kogomi" (ostrich fern) and "taranome" (Japanese angelica-tree sprouts) are eaten in spring, and "warabi" (bracken fern) and "yamaudo" (Aralia cordata) are eaten in summer. The mountain is covered in deep snow in winter, producing tender and flavorful wild vegetables that grow when the lingering snow disappears. Mushrooms such as "shimeji" (Lyophyllum shimeji) and "maitake" (hen-of-the-woods) can be primarily found in the mountain forest and wilderness that comprises more than 90% of the town's area. In addition, broad-leaved trees are used to cultivate mushrooms on logs, including "nameko" (Pholiota nameko) and "hiratake" (oyster mushroom).

3 types of alcohol

(Local Beer, Saké, and Wine from Nishikawa)

Nishikawa is the only town in the prefecture with breweries producing Japanese saké, wine, and beer by taking advantage of the climate and spring water of Mt. Gassan. Local businesses include Shitara Shuzo, Toraya Winery, and Gassan Meisuikan Local Beer Factory. Not only do they manufacture and sell alcohol, but they also contribute to energizing the local industry as facilities that attract customers. The "Ordinance to Promote Celebrations with Local Saké, Wine, and Beer from Nishikawa" enacted in 2014 plays a part in sharing the allure of the town.

Edible Wild Plant Souvenirs Croquettes

Original croquettes filled with edible wild plants grown in the town.

Soft Ice Cream

"Zunda Soft" made from a secret bean paste recipe produced in the town and the Oisawa District and "Yamabudo (wild vine) Soft" ice cream are so tasty they attract lines of people to buy them. Mild-tasting soft-serve ice cream made with local beer features the flavor of wheat, but is alcohol free and can be enjoyed by people of all ages.

Soft Beef Stewed in Local Beer

Beef raised in the prefecture is slowly stewed in Gassan local beer.
The flavorful brown sauce provides the finishing touch.


Local beer

The local beer uses carefully selected raw ingredients from Germany, the home of beer brewing, and Gassan natural water. Two versions are available - pilsner with its refreshing taste and Weizen featuring a full-bodied flavor created from roasted malt.

Local Wine

Made using only fruit grown in the prefecture, the local wine features a high-quality taste utilizing the blessings Mt. Gassan offers.

Local Saké

The local saké made from Gassan spring water, one of the Selected 100 Exquisite and Well-Conserved Waters, and brewer's rice which has undergone multiple enhancements.

Fruit Juice

Enjoy the fragrance of the mountains and deep rich taste of "Kokuwa (hardy kiwifruit)," "Yamabudo (wild vine)," and other flavors.

Mt. Gassan Natural Water

The soft water contains a moderate amount of minerals and its clear and mild quality bring out the flavor of raw ingredients, making it suitable for both drinking and any kind of cooking.

Baked Doughnuts
(Gassan and Kokuwa Local Beer)

These moist doughnuts are available for your enjoyment in two flavors, Local Beer created in Nishikawa-machi and Kokuwa (hardy kiwifruit), a specialty product.*
*Also called "Sarunashi" (Actinidia arguta), this is a "super fruit" which improves beauty.

Gassan Manma White Sprouted Rice Germ

The delicious healthy rice is made by cooking the grains mixed with white rice. It uses two types of rice, "Tsuyahime" and "Haenuki," raised on spring water from Mt. Gassan.

Rokujo Tofu

This is dried tofu introduced by Kyoto monks who led an ascetic life in the mountains and came on pilgrimages to Dewa-Sanzan. It goes well with soup and pot cooking.

Traditional Handicrafts

These traditional handicrafts enable you to feel the warmth of the handiwork involved in making Kokeshi dolls, agate cutting and polishing, clay bells, hanging ornaments, lampshades made from Gassan Japanese paper, and other handiwork. It also makes a great souvenir.

※Not available at some facilities.
Nishikawa Roadside Station

Available here are specialty products produced both in and outside the town, such as processed goods made by local processing groups, and Gassan natural water and local beer produced by the owners of the station.

Location/2304 Ooaza-Mizusawa, Nishikawa-machi
Tel. No./0237-74-2100

Seki-no-Chaya Restaurant, Gassan Lake Shop

Made using a secret recipe for Oisawa-grown beans, "Zunda Soft Cream" is superb. The shop is on a mountain pass which offers views of the Gassan Lake Large Water Fountain right in front of you.

Location/158-130 Sunagozeki, Nishikawa-machi
Tel. No./0237-75-2555

Oisawa Hot Spring - Yuttarikan Hot Spring(Direct Sales Store)

The direct sales store has rows of seasonal vegetables, edible wild plants and mushrooms harvested in the local area. It offers an abundant amount of produce to accommodate the local residents who shop at the store daily.

Location/1177 Oisawa, Nishikawa-machi
Tel. No./0237-74-3232